Truck Jack Air Actuated 20,000kg
Product Code: PROTRJA20T
Brand: TQ Pro Expert
The TQ Pro "Latest Technologies" Truck Jacks are made to TQB Brands specification using superior quality components that are built to exacting standards through CNC machining and Robotic Welding. The result is top industrial performance and reliability. TQ Pro "Latest Technologies" Truck Jacks are the perfect choice for a wide variety of uses. These Commercial Grade Jacks are carefully constructed from the highest grades of quality steel. The super strong hydraulic pump utilises wear-resistant American Made XTP double sealing ring technology. Only the finest quality of Hydraulic Oil is used that has been tested from -25°C - 60°C.
Use these quality truck jacks with a 145–175psi rated air pressure supply to lighten the load and provide the fast, strong lifting power you need. With several lifting options as well as included saddle adaptors…the wide range of TQ Pro "Latest Technologies" Truck Jacks will suit most desired applications from agriculture to mining, earth-moving to passenger transport as well as aviation and military.
This Air Actuated Truck Jack is designed for heavy duty commercial use and features a long reach "T" handle and large rubber wheels for smooth manoeuvring around the workshop. As always with TQ Pro "Latest Technologies", safety is just as important as highest standard quality, so all TQ Pro "Latest Technologies" Truck Jacks have a built-in safety valve to prevent overloading and keep the operator safe. Additional safety feature includes a Self-Return lowering and lifting switch to ensure complete control during operation. With a minimum height of 215mm this jack is ideal for medium ground-clearance vehicles and a high lift maximum of 556mm (includes additional lifting saddles), this Air Actuated Truck Jack is a very versatile heavy-lifter suitable for most workshops.
---
 Features
Seals made in America
Double Sealing Function using XTP Industry Sealing
Telescopic air actuation lift (air-hydraulic pump)
Long T-handle lets you easily position your jack under vehicle
Self-Returning Lowering and Lifting Switch
Internal and External Cylinders hard chromed
High manoeuvrability & deep reach under vehicles
3 extension adaptors / saddle plates
Large rubber wheels
All adaptors can be properly stored for transport on each side of the jack
---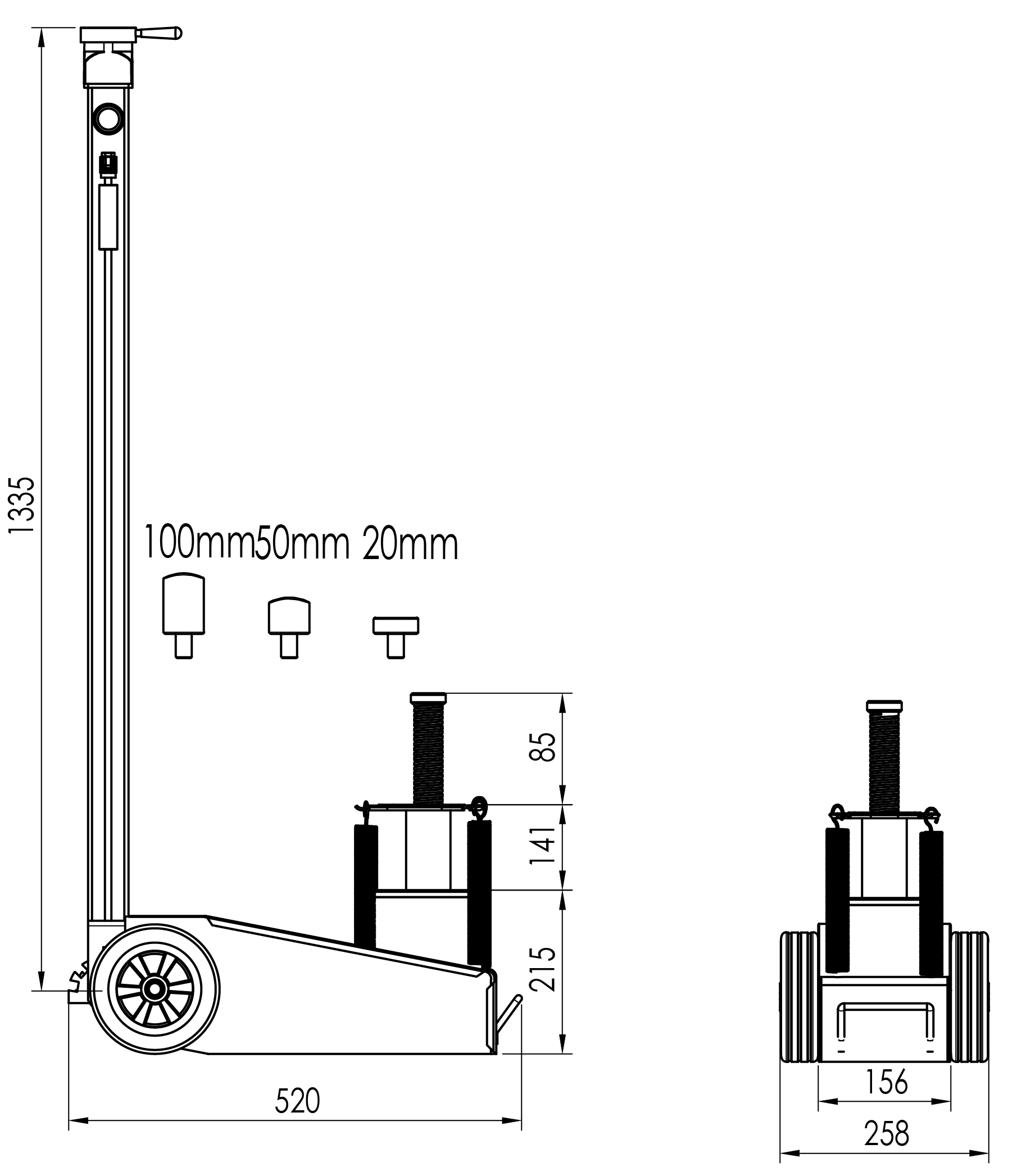 Specifications
Safe Working Capacity: 20,000kg
Minimum Height: 215mm
Maximum Height: 541mm
Hydraulic Lift: 141mm
Adjustable Screw: 85mm
Adaptors: 20, 50, 100mm
Handle Length: 1335mm
Operating Air Pressure: 145-175psi
Chassis: 520(L) x 215(H) x 258(W)mm
Nett Weight: 40kg
Carton:  580x290x260mm
Gross Weight: 42kg
---
Intended Use
For professional heavy duty use on truck, agriculture, construction, mining, automotive, and marine applications where lifting and lowering is required. 
---
Print version  

         Owners Manual  

            Product Guide  

---
About the TQ Pro brand
TQ Pro top quality Tools and Equipment are designed and manufactured for specialist professional use in a garage and workshop environment. TQ Pro products are strong, reliable, and well finished for the expert tool user who appreciates professional design, reliability, and attention to detail. Covered by our 12 month trade use warranty, our TQ Pro Tools & Equipment are made with pride to deliver the best combination of professional performance, presentation, and reliability.