TQB Brands Pty Ltd owns and markets Australia's leading "Workshop Equipment" brands "TradeQuip","Borum", "TQ Pro", Eaglepro and "Red Label".
Our evolving strength will be defined by 5 Core Values.
Commitment to customer service excellence
Building strong long term relationships through open and honest communication
Promotion of loyalty, integrity and respect
Taking responsibility
Continuous Improvement
These key values will be crucial to the development of our business culture, brands and strategy.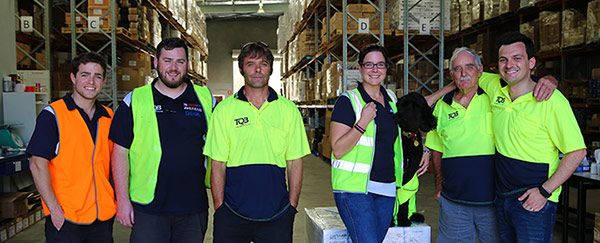 If you strive for excellence in all that you do? Then we can provide you with an environment that transforms "Good People into Great". That's the way we work at TQB Brands everyday. Our employees are the driving force behind our success. We share a common vision. We're hard-working and creative and want to push the boundaries. Our employees represent our prestigious brands, recognized and respected right across Australia.
There are many reasons why you should consider a career at TQB Brands Pty Ltd;
A WORLD OF OPPORTUNITIES
You will discover that working for a market leader creates lots of career opportunities for starters as well as experienced professionals in sales, marketing, operations, product development and more. You can move not only across the different market channels but also across the country.
BREAKTHROUGH INNOVATION
Innovation has always been a hallmark of our culture. We have created breakthrough innovation across the company, based on some of the world's best practices and designed to focus creative thought on addressing multiple market opportunities and needs.
DIVERSITY DRIVES SUCCESS
At TQB Brands diversity is an integral part of our success. We value the different backgrounds, experiences and perspectives our employees bring, and believe diversity leads to new ideas, better business decisions and a vibrant work environment.
CONTINUOUS IMPROVEMENT IS OUR STANDARD
We have an exceptionally strong strategic position with our brands, including market share, scale, commitment to innovation and, with a daily focus on 'Continuous Improvement' – all of which will continue to drive sustained growth.
We are a young, growing business with plenty of ambition, and can offer long-term stability and opportunity for like minded people.
REGISTER YOUR INTEREST OF EMPLOYMENT TO BE NOTIFIED OF FUTURE OPPORTUNITIES