Truck Jack Air Actuated 22,000kg
Product Code: B2003T
Brand: Borum Industrial
NEW PRODUCT!
This Borum "Industrial Quality" pneumatic heavy-duty 22,000kg Air Actuated Hydraulic Quick Lift Truck Jack has a powerful super duty air motor to easily and reliably lift heavy vehicle loads. This super-tough Truck Jack delivers enough air/hydraulic power to lift up to 22,000kg and is ideal for servicing trucks and farm equipment. Other features include 200mm diameter wheels for easy maneuverability, four saddle adaptors and a cast iron base with formed steel housing for added durability. 
Built with the best components from the highest grades of rugged steel, to the wear-resistant advanced technology sealing rings and a heavy duty hydraulic pump that's filled with industrial grade high/low temperature-resistant hydraulic oil.
The alloy hardened piston-ram is treated and polished to resist thinning over time and uses an advanced Y-type polyurethane sealing ring system that keeps the jack solidly raised in the desired position, preventing the load from falling slowly. This jack is fitted with a built-in bypass hydraulic safety overload system for extra onsite safety. Even if the jack is loaded with too much weight, the safety overload kicks in and gently lowers the unit before the operator is put in a dangerous situation.
This 22,000kg Truck Jack is designed for industrial strength durability. The rugged super-grade steel frame is teamed with an industrial quality lead-free paint finish that covers the entire surface to ensure long-lasting wear and help prevent rust. The paint is also oil, grease and dirt-resistant for easy cleanup.    (Previous models include product code/s; BPROAJ22T, BTJ22TA)
---
Features:
Solid heavy duty construction for superior performance

Industry benchmark for harsh workplace conditions
Hardened alloy plated ram ensures heavy duty performance
Advanced hydraulic seal technology
Fast motion super duty air pump
Industry benchmark for heavy duty workplace conditions
Advanced technology sealing rings
High-low temperature-resistant hydraulic oil
Treated and polished piston and ram
Built-in bypass hydraulic safety overload system
Convenient & efficient height adaptors
3-position pumping handle
High quality lead-free paint ensures long-lasting wear and prevents rust
Oil, grease and dirt-resistant finish for easy cleanup 
---
Specifications: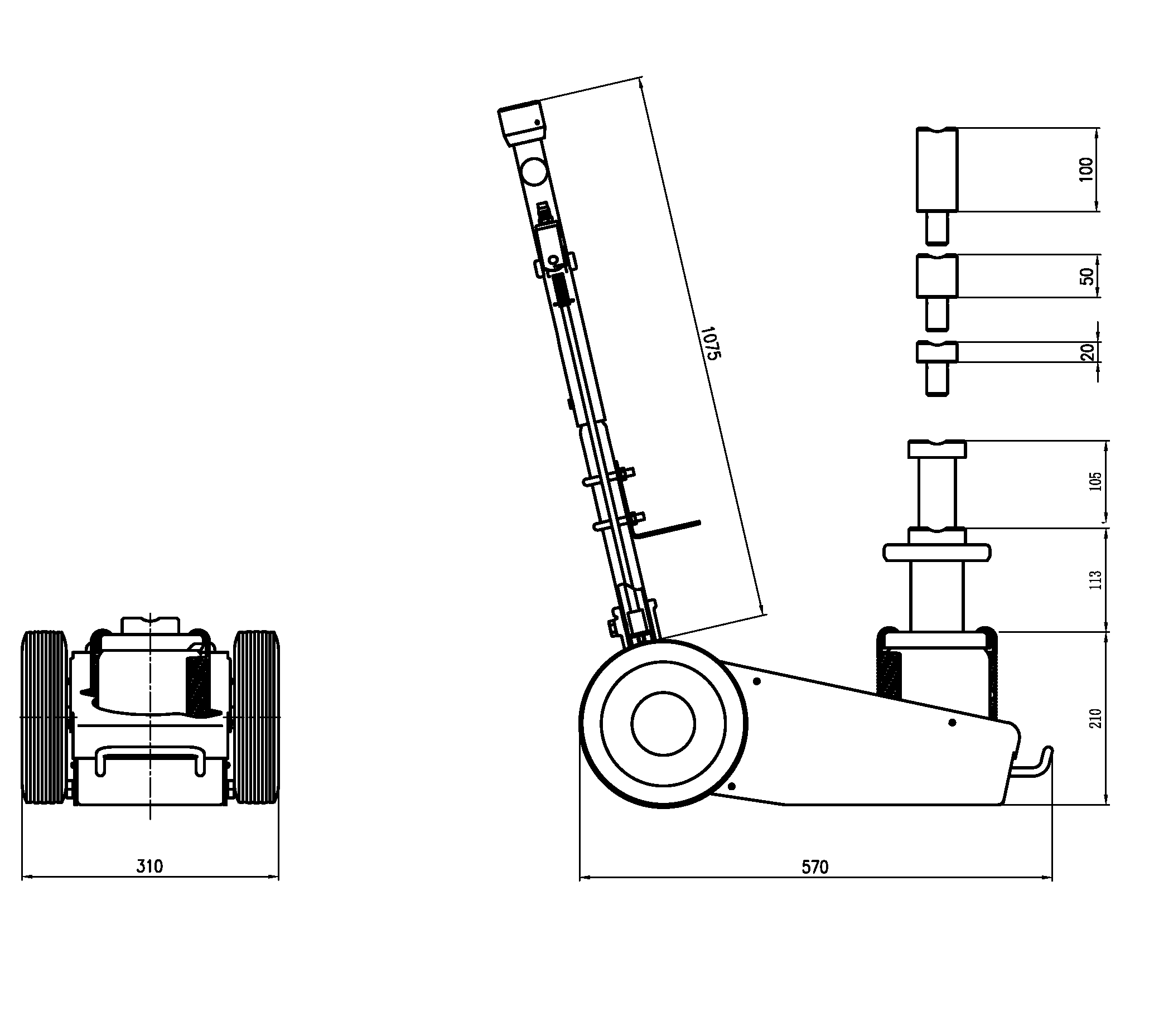 Safe Working Capacity: 22,000kg
Lift Range: 210-525mm
Hydraulic Lift: 120mm
Adjustable Height: 105mm
Handle Length: 1075mm
Air Supply: 100-120psi
Wheel Diameter: 175mm
Interchangeable Saddle Adaptors: 20 50 100mm
Chassis: 570(L) x 215(H) x 310(W)mm
Nett Weight: 48kg
Carton: 660(L) x 360(W) x 280(H)mm
Gross Weight: 50kg
---
Intended Use
For professional heavy duty use on truck, agriculture, construction, mining, automotive, and marine applications where lifting and lowering is required. 
---
Print version  

         Owners Manual  

            Product Guide  

---

About the Borum brand
Our "heavy duty commercial" range of Borum Industrial equipment has been manufactured to exacting standards for the past 34 years. We specify industrial quality components and design to ensure a long and durable working life in commercial transport, mining, earthmoving and railway environments. Our Borum Industrial range of equipment is focused on achieving superior professional standards, reliability, quality, and are covered by a 12 month trade use warranty.