Engine Crane 3000kg
Product Code: 1193
Brand: TradeQuip Professional
This Heavy Duty TradeQuip "Made for the Trade" Engine Crane has a long stroke lifting ram, a single action pump with a maximum load capacity of 3,000kg. Very simple to use manual hydraulic operation. The jib extends to the desired lifting capacity of 1000kg, 2000kg or 3000kg secured by a single locking pin. Mounted on heavy duty castor wheels for excellent manoeuvrability around the workshop. The lifting range is 0-2500mm so any large engine can be lifted clear out of the engine bay with little effort. With great stability of its wide legs, this crane can also be used to lift machines or other heavy items, making for an excellent piece of equipment for the workshop or warehouse.
---
 Features
Industrial grade engine crane
Heavy duty hydraulic pump
Adjustable boom in four positions for lifting
Robust steel fabricated legs with structural supports
Large castor wheels for easy mobility
---
Specifications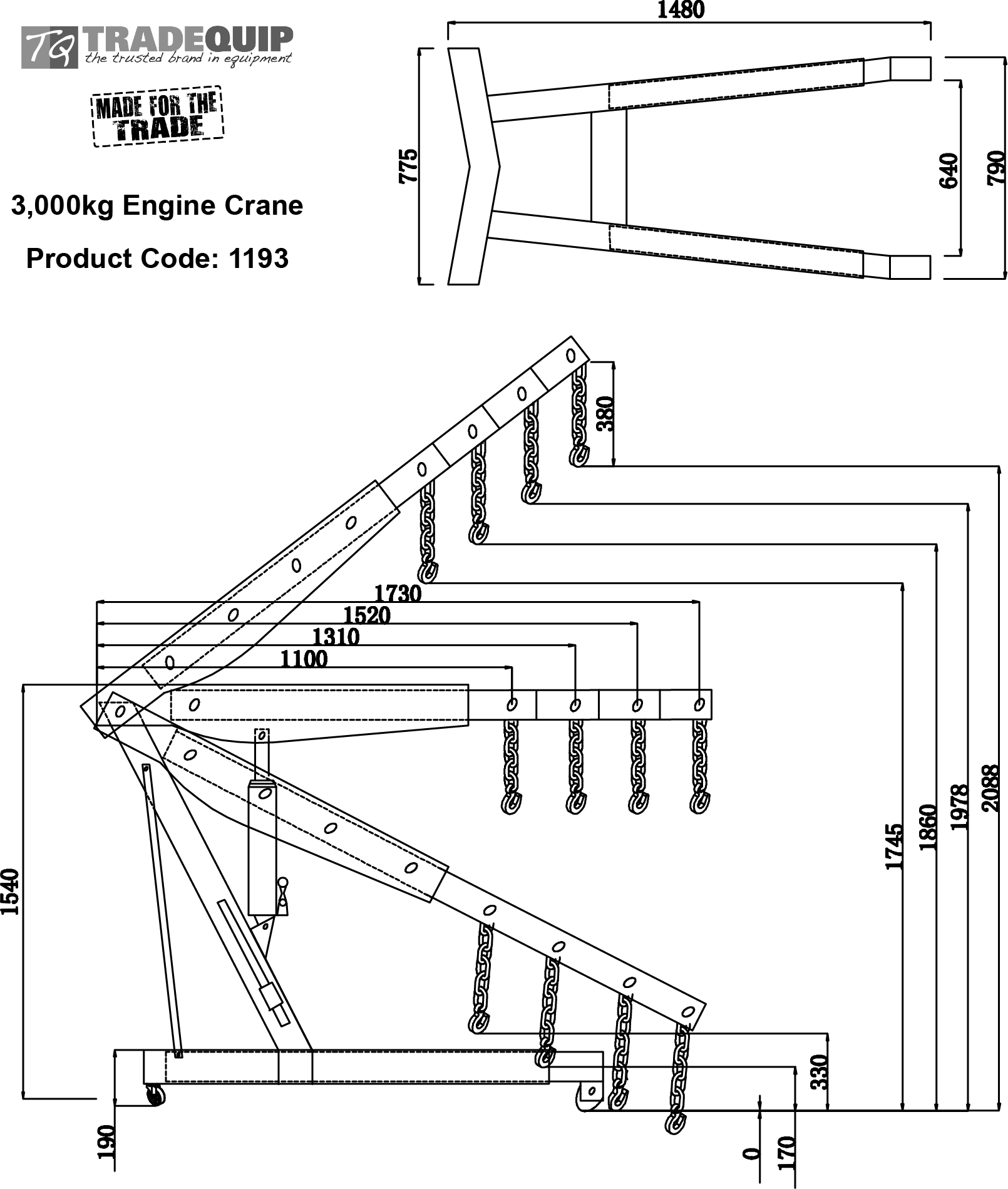 Safe Working Capacity: 3,000kg
Folded Height: 1540mm
Maximum Lifting Height @ 3000kg: 1745mm
Maximum Lifting Height @ 1000kg: 2088mm
Jib Length Fully Retracted @ 3000kg: 1100mm
Jib Length Fully Extended @ 1000kg: 1730mm
Overall Length Fully Extended: 2385mm
Overall Length Fully Retracted: 1480mm
Overall Width Fully Extended: 875mm
Overall Width Fully Retracted: 785mm
Leg Height 190mm
Nett Weight: 121.5kg
Carton 1 of 3 : 1330 x 860 x 100mm (Weight: 29kg)
Carton 2 of 3 : 1470 x 300 x 200mm (Weight: 82kg)
Carton 3 of 3 : 700 x 180 x 150mm (Weight: 15kg)
---
Intended Use
For regular professional use, to raise and/or lower diesel engines and transmissions during service or repair work.
---
Print version  

         Owners Manual  

          Product Guide  

          Product Information Tips 

---
About the TradeQuip brand
Our Flagship brand of garage and workshop equipment, TradeQuip is designed for use in a demanding garage and workshop environment by trade users. With proven and trusted "Made for the Trade" reliability, TradeQuip branded products offer the very best in performance for an affordable price. The TradeQuip range is covered by a 12 month trade use warranty.