Parts Storage Bin Rack 10Bin
Product Code: RLS10BR
Brand: Red Label Economy
Keep your workspace organised with this Red Label 10-Bin Handy Wall-Mount Parts Bin Rack. Rugged polypropylene bins can be removed while you work, then store securely in the pegboard rack. The red bins have a 1kg load capacity while the larger blue bins can hold up to 1.5kg each. This wall rack of storage bins can be used to store small tools, nuts, bolts, parts, hobby gear and more! Just lift out the bins you need, take them to your work area, fill them up and put them back in place when you're done.
---
 Features
6 red bins and 4 blue bins for easy identification
Stackable bins made of moulded polypropylene
Ideal for garages and workshops
Easy to assemble
Convenient access to removable bins
---
Specifications
Working Load Capacity: 14kg
6 Parts Bins 140x85x70mm (1kg Load Capacity)
4 Parts Bins 210x125x123mm (1.5kg Load Capacity)
Overall Dimensions: 620(L) x 235(W) x 245(H)mm
Carton: 630(L) x 250(W) x 160(H) mm
Gross Weight: 2kg
---
---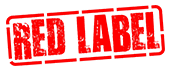 Red Label 12 Month Limited Warranty
In this warranty:
We means TQB Brands Pty Ltd;
You means the consumer of the Goods within the meaning of the Australian Consumer Law
Place of Purchase means the authorised retailer, distributor or wholesaler that sold you the Goods in Australia
Goods means the product/s accompanied by this warranty and purchased in Australia
Domestic Use means personal and/or household family use only (12 months)
Commercial Use means any usage outside a residential household (3 months)
Red Label Goods come with guarantees that cannot be excluded under the Australian Consumer Law. You are entitled to a replacement or refund for a major failure and for compensation for any other reasonably foreseeable loss or damage. You are also entitled to have the Goods repaired or replaced if the goods fail to be of acceptable quality and the failure does not amount to a major failure.
In addition to any rights and remedies you may have under other laws relating to the Goods, we provide you with the following warranty:
If, during the first 12 months of Domestic Use from the date of purchase, or during the first 3 months if the Goods have been used for Commercial Use, there is a defect in the Goods due to improper workmanship or material, we will repair, provide replacement parts or replace the Goods without charge. Any replacement parts or products is warranted only for the time remaining on the original Warranty Period.
We are not obliged to replace the Goods under clause 1 if the Goods have been improperly used, operated, repaired, damaged, abused, installed, tampered with by unauthorised persons or not maintained in accordance with the manufacturer's instructions. If the Goods consist of a number of accessories, we may choose to only replace the defective accessory.
The warranty provided under clause 1 is limited to repair or replacement of the Goods only. To the extent permitted by law, we exclude liability for:

- consequential loss or any other loss or damage caused to property or persons arising from any cause whatsoever;
- damage to consumable items;
- damage arising from normal wear and tear.

In order to claim under this warranty you must, within the Warranty Period, return the Goods to the Place of Purchase, together with the original proof of purchase.